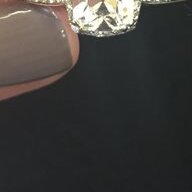 Joined

Feb 15, 2015
Messages

147
Hello PS!!
After months of looking for a wedding band for my Tacori 2620, I picked out my wedding band, along with my fiancee, who took about two minutes to pick his!! Men!

I was hung up on a shared setting in the worst way, but no matter how hard I tried, I couldn't get them to play wll together....

I WANTED a Tiffany ring (I really wanted the classic solitaire from Tiffany, but I got sidetracked when looking at rings, and wound up picking my Tacori, which I love, but two very different looks.) It got complicated when I started looking for bands. i looked at Tacori and I wasn't crazy about the 2630 matching band, and the few other bands that I liked, for a full eternity, they were just too pricey and they weren't a perfect match anyway..... And my heart still yearned for a Tiffany!

I have a lot of Tiffany silver and I love all my pieces

So Diamondseeker (Hi!) suggested the Legacy band, which is gorgeous! But the milgrain on my ring is in the basket, and face-down, it has a smooth finish. So after exhausting my brain, I realized I never gave the channel band a look.....
You guessed it by now - we went to Tiffany last night I got the channel 2.5mm full circle last night and I couldn't wait to share with you all!! Wedding is in October, so I took some photos on my phone and then I have to put it away

(in a little while!)
My fiancee chose the double milgrain 6mm - gorgeous!!!

So some pics to share - thanks for reading!