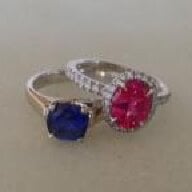 Joined

Feb 29, 2008
Messages

4,837
So I just turned the big 30 yesterday. My BF is on a budget because of his job situation so he got creative this year. I think he did better than years previous when he just went out and got something. Anyways, one of the things he did was go on ebay and buy a bunch of old Tiffany''s blue books, since I loved the one he got me for christmas. I have one for 1973-4, 1975-6, 1979 (my birth year), 2002-3, and 2006-7. I went though the old ones and the prices shocked me. I know that 30+ years can result in a lot of inflation, but this just blue my mind.

I thought maybe someone would get a kick out of this.

Here are some items: They have several rigs on one page. The older books are more like a catalog with items to order, not just a showcase of the extravagant stuff).

1973-1974

Tiffany setting in platinum (the color and ct weights are not listed, so I am guessing by looking at the rings in comparison to each other.
About 1/3 ct: $271
about 1 ct: 1900
about 2 cts (?), it gets harder to tell as they get bigger $8325


shard prong half circle diamond and sapphire band (now would be a celebration ring): $350
half circle channel set diamond band: $260

Tiffany Bead engagement ring in yellow gold (looks about 1/2 ct): $480

I found some sterling silver jewelry in the 1979 book
Starfish earrings: $25
Silver bracelet (looks like a chain): $75

Anyways, thought this was kind of fun. I have no idea how much money this was back than or what other jewelry went for from other places. I also don''t know the quality of the diamonds.