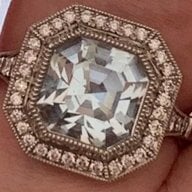 Joined

Nov 16, 2015
Messages

1,108
I have been buying a lot of Asscher's lately just to compare the cuts. They don't have the brilliance of my round so I get a little disappointed with the sparkle if I don't have them mixed with some brilliants to up the sparkle factor. I haven't post my Tianyu lab diamond yet as I have been patiently waiting on the setting to get finished. I love my aquamarine halo so I decided to do another Art deco setting with the lab diamond. It will have larger halo stones and a flower underneath made of .10 marquise's. I made small changes all around to give it more sparkle and a pop of color with some rubies. The setting that the lab diamond was in was empty so rather than recycling it, I decided to put an equivalent moissanite in it as I have no solitaire's anymore.
I will post about the lab diamond on the MMD thread once I get pictures of the completed setting hopefully this week. The stats are around 8mm VS1 H in color. I was trying to get a 2.5-3 carat stone in G color but they could never quite get there with the rough they selected I had been waiting 7 month's already. Once the stones were graded by IGI, they kept coming back as an H. There was one G but It was the smallest and these already face up so small so I passed. The stone looked much whiter when it was not mounted but I can definitely see some of the brown tint. I would strongly recommend going no lower than a G on this kind of center if ordered from Tianyu. The price was agreeable but there are no returns so it is a gamble.
I sent the Asscher to Sam at. deBebian's. He said he see's the tint but it wasn't as obvious when it wasn't mounted. What bother's me most is how dead the center is as it is not faceted at the way through. I put one of his new Kori moissanite's that was 8mm back in the setting and I can see the difference in cut immediately. We decided to add a cup underneath the diamond to hopefully improve the color and to minimize the X that I see in the stone when it is set. I don't know a whole lot about the cut other than the understanding that the cut of an Asscher and how white it is, is so important. When I compare both of them to my Asscher aquamarine, I am a little disappointed because the precision cut aqua moves like water and I only paid $300 for a natural mined stone from Jim Buday. His cuts are really amazing and that rings is still my favorite.
Here are a few comparison's. The Kori moissanite is part of deBebian's new precision cut stones. This is 8mm (3 carat) Asscher in colorless in a 14K white gold setting. I have a few comparison pics next to my aquamarine as well. I will post more about the lab diamond later next week when I get pics. This is just a comparison for the moissanite center.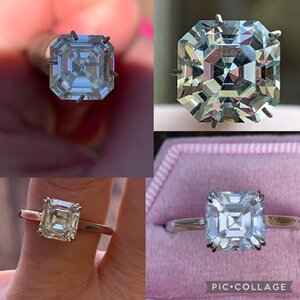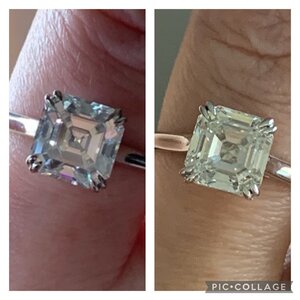 Lab diamond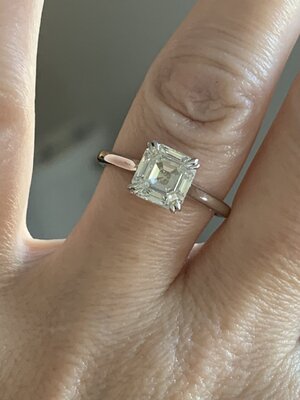 Kori moissanite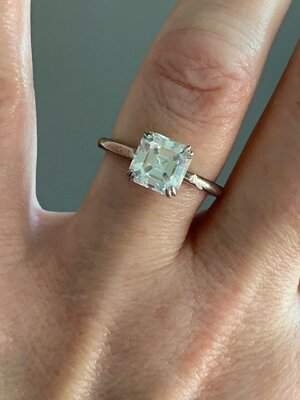 Lab diamond outside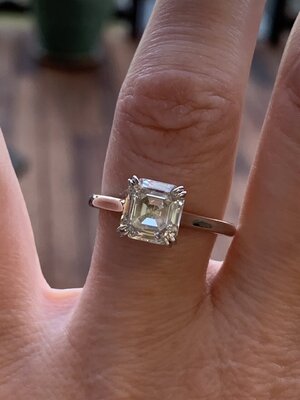 Kori moissanite outside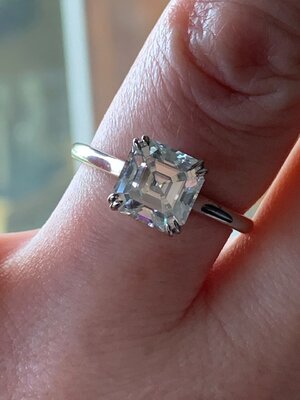 Diamond (Left) and Moissanite (right)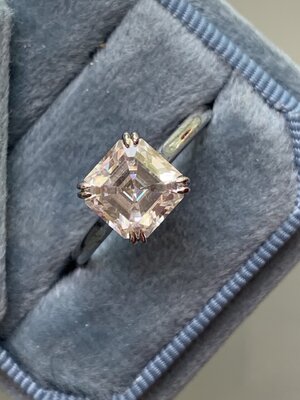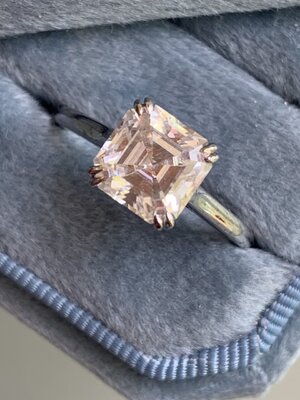 Video's of Kori moissanite 8mm - indoor, outdoor, spotlighting
Video's of Tianyu lab diamond 8mm - Indoor, outdoor, spotlighting