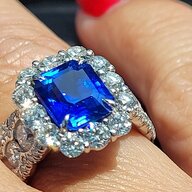 Joined

Feb 22, 2008
Messages

4,034
This may not be inline with most diamonds on this forum, but I feel like I really scored big when I opened up this beauty. You know that feeling that you get when you take a chance on something that you order online and hope like anything that you are going to love it when you first open the package. Well, this , for me, was a real WINNER.

I loved it the minute I first laid eyes on it and I don't do that very often when it comes to my online jewelry/gemstone purchases. The stats are the cert/report. I know EGL is not the highest standards...but it certainly is nice to have a report. Something is better than nothing. I think the stone is very true to the report. It maybe a tiny bit warmer than the L color but I love that it is super sparkly and eye clean. I also love for an older cut stone to have a warmer hue to it. That is part of the charm.

It is uniquely cut stone. Naturally I took oodles of pics. The first pic is from the seller. So now for setting options.............. hmmmmmmm???