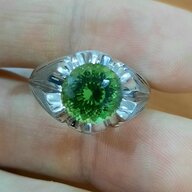 Joined

Nov 1, 2020
Messages

8
Hi everyone

I've been lurking in this forum for quite sometime and found it very helpful and informative.

Going through the recommended vendors list I got an overall idea of the price and quality of peridot where a good quality (color and clarity) for a stone of 4 carats would be 200 USD per carat. I also understand "if its too good to be true". But I found this instagram account Finestonepk which I would appreciate your thoughts on:


My main issue is with how clean the stone is compared to the price (I believe it was about 300USD) . So what do you think?

Didn't ask him about the return policy, as where I live I can buy gemstones from abroad but for some reason I'm not allowed to return them without a having a jewelry license.