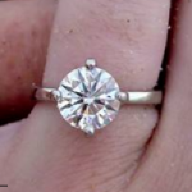 Joined

Feb 11, 2013
Messages

24
Hi all,
Just received the third version of the CAD for my ring, and I think this is very close, if not good to go! Looking for feedback/suggestions before I officially sign off on it.
What I wanted (in concept):
- Sleek, modern, striking
- Organic and flowing
- Minimal -- showcase the stone, not take attention away from it
- Somewhat unique (at least a little different than a standard four-prong solitaire)
I ultimately decided to go with a NESW prong orientation because I was really grabbed by the look and thought it offered some uniqueness while still remaining minimal.
The jeweler said to ignore the thickness of the prongs (especially at the bottoms) in the CAD. She said that they will be shaped in the metal and will be approximately half the size currently displayed in the CAD. (Also the tops of the prongs will completely different as they are molded to hold the diamond.)
The stone is a 1.52 F VS2 H&A round diamond. 7.4mm in diameter.
My ring size is 3.5. The bottom of the shank is 3mm wide and tapers to 1.6mm as it approaches the stone. Metal will be platinum.
Comments or suggests about the design? Also, recommendations for how to shape the prongs? There seem to be so many nuances to the shape of prongs, and I haven't decided on anything.
Thanks in advance!