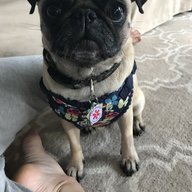 Joined

Oct 11, 2017
Messages

87
I need some guidance on this ring I'm considering for an anniversary gift.
The ring is being held for me but I'm waiting on a report back from world gemological institute. The seller claims the ring is vintage with French hallmarks platinum and the center stone measuring 1.1 ( still waiting back for the official stats on it). The center stone is surrounded in what appears to be Rose cut diamonds ( not sure their stats either) when you zoom in you can see some inclusions. The ring is my size so no changes needed. The return policy seems straight forward has to be back in hand 21 days since over seas. The price is right under 5K. Is this an okay deal? Ive always wanted a true Art Deco engagement ring but most of the ones I like are at least 10k. Ive been in the market but more looking at single stones 1.25 range and thinking of going plain Jane for my ring. I have a custom .73 princess cut with micopave and halo engagement ring but don't wear it as it's too tall and the band is thicker.
If stats are good VS center ? Should I go for it. I know it will be hard to get exact grading since it's set. Should I pass on this and just go big and go home And keep to my original plan? 1.25 center stone and plain band even if I might have to wait to set it. I also didn't want to spend more than 5K just out of guilt looking In my jewelry box of things I no longer wear.
Thank you so much in advance
!