Joined

May 21, 2021
Messages

119
Hi guys! Thank you for all of your help thus far on my long slog to E-ring Elysium! Now that I've
finally settled on a jeweler
, I thought I'd start a fresh thread with a more germane title.
Leon recieved my center stone and
little sentimental diamond
last week, and he is currently on the hunt for side stones. After unsetting my mom's baguette, LM determined that it was too small to use as a side stone in a 3 stone ring (as predicted), but that it could be used as the smaller outer stone in a 5 stone configuration. He found a larger baguette to use in between the little guy and the center EC, and sent a pic of the three laid out (he's still looking for matching baguettes for the other side).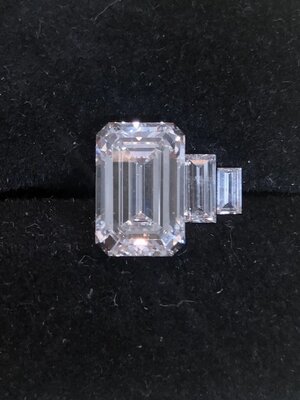 What do you guys think? This is my first custom ring, and I cannot for the life of me visualize how this might look set. Does this look like it will be crazy wide? Or will it look just dandy when the sides are angled/arched? How "tucked under" will the side stones be?
I love the idea of graduated baguettes, and find the look both striking and timeless when executed well, but I am concerned that it will be too much of a good thing on my hand. As I've mentioned before, I have quite spindly, size 4-ish fingers, and my EC takes up a fair amount of real estate at 11.05 x 7.37 mm. I prefer to see at least a liiiittle hint of the shoulders/shank from the face up view, and I REALLY do not like when the spread of the side stones is visually wider than the finger they are on. Here's a particularly egregious example of what I mean (with a much bigger EC, 6ct+):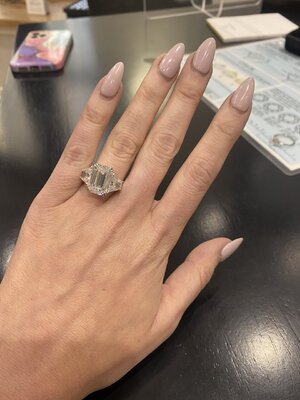 A couple secondary concerns:
Is the small baguette noticeably whiter than the other stones?
Is the middle baguette too short/fat?
This 5 stone design seems to be the best/only option if I want to use my mom's baguette, so if it won't look full-on "married to the mob," I'll run with it. The only alternative baguette placement mentioned was setting it on the underside of the band, but Leon was concerned about potential damage to a sentimental stone since that part of the ring will suffer the bulk of day-to-day abuse.
If this 5 stone is going to look bananas and we have to scrap the baguette, it's not the end of the world. I have a backup plan. I just don't want to introduce Plan B to Leon and further confuse (and prolong) things until I know for sure the current arrangement is off the table.
In closing: HELP!