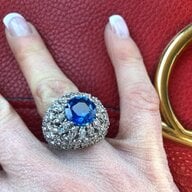 Joined

Dec 25, 2019
Messages

86
So, admittedly, even though it's my birthstone, I've always disliked garnets and avoided them like the plague. I've only met brown-ish,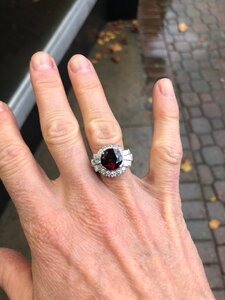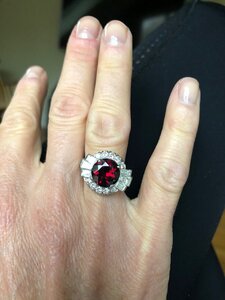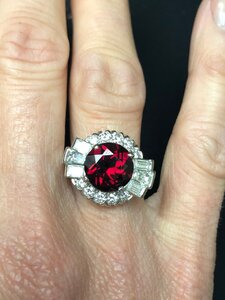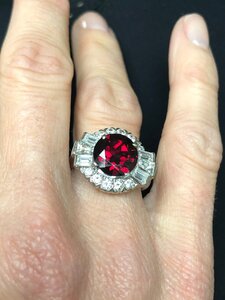 dark, nasty garnets.
Meanwhile, I have been on the hunt for a ruby ring. But the more I looked at ruby stones and the more I researched rubies, the farther away I found myself from finding what I wanted.
I did discover that I'm not a fan of Thailand rubies. My eye was always able to see the purplish modifier.
I do like Burma rubies and even toyed seriously with a GIA certified pigeon's blood stone but it was so tiny I just wasn't happy. To be in my price range, it was 1.09 carats (remember carat for carat rubies are more dense and therefore smaller dimension-wise than diamonds) and it just did not spark joy.
So then my jeweler says, I know it's not a ruby but I've got a spectacular garnet set in an even more magnificent setting. My heart sank. But I trust him so ok I will look. He says the platinum setting has E/VVS1 diamond baguettes and transitional cut stones that are just "wow". The ring came from an estate after the owner had taken the 4.25 carat diamond out of the center. My jeweler had the garnet and it fit perfectly in the setting.
I take one look at it and I'm in love! Swoon. Totally ME!
But wait. I have a lifelong dislike of garnets and, on top of that, I've put so much effort and research into this ruby quest how is this possible that a love a lowly garnet?!?!
Well, jewelry love moves in mysterious ways.
I snatched up this ring in two seconds and I haven't looked back at rubies since (caveat....I may resume the ruby quest at a later date but given the exponentially higher price point I was looking at with rubies, it's going to take a very perfect ruby to turn my head!).
So here she is! My new 4.21 carat garnet ring.
To be fair to rubies, I included a pic where she definitely blacks-out a bit and has some extinction and, of course, she doesn't have that fluorescent glow but that's to be expected. I will say the majority of the time she is 75 degrees and sunny!