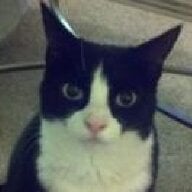 Joined

Aug 8, 2005
Messages

40,225
First, THANK YOU SO MUCH ANDREY!!! Our bands are just beautiful.
We put them on to try them for size...and neither of us wanted to take them off.
Okay here''s the nitty gitty:
Both are Scott Kay.
My band has .18 in diamonds and is a half eternity. Platinum and just SO sparkly and beautiful! It''s 2 mm high, and 2 mm wide.
John''s band is the Javelin mens band in Palladium. 8 mm.
BTW... Pearlman''s boxes are really beautiful.

Vendor review: Juilian at Pearlmans was endlessly patient with my wedding band indecision, always taking my calls, always emailing me promptly. And I was (this will come as no surprise to you all who went through the setting saga) REALLY indecisive. At one point he called Memoire AND another ring manufacturer to ask them about the interaction of the different types of platinum (Memoire''s extruded, 950, 900 iridium) with my 900 Iridium alloy. Also, John''s band was ONE day late in coming in from the engraver and Julian was quick to fire off an email and change my shipping delivery to overnight shipping so that we would get it as quickly as possible.
Overall... and this comes as no surprise. Pearlmans is a class act start to finish and Julian gets an A+!
WE HAVE OUR BANDS!!!! It''s SO real now. LOL.
They are really beautiful bands too. Overall, I''m SO happy with our PS gift choice.