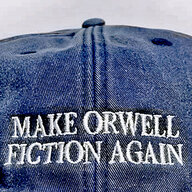 Joined

Apr 30, 2005
Messages

30,212
I've been doing a project recently that requires me to enter my garage several times a day.
Every time I used the small door for humans, not the big one for cars, I heard that buzzing/humming sound of a humming bird flying right over my head.
There's a tree branch right there so I thought the hummer just happened to be hanging out there.
But it has happened
every
time I passed through that door, AND it's spring.
I looked up into the tree several times but couldn't spot a nest.
Today I found it.
It's so tiny!
It's
very
low in the tree, only a few inches above my head.
I never expected it would build a nest that low, so I was looking way up in the tree.
I saw the hummer in the nest this morning, with a gorgeous sparkling eye and sparkling feathers.
Walking silently and barefoot on the concrete driveway I approached very slowly, looking down to make sure I didn't step on any dry crunchy noisy leaves that might scare it away.
Then I spotted her/him, sitting in the nest, eyes open and watching me, likely sitting on eggs.
Immediately I backed away and left her/him alone.
"Of course, A-hole that I am, I want to get pics, but I'll google around to learn how to be minimally invasive to the birdie family.
Good thing I have that amazing Nikon Nikkor 200mm micro F4 lens.
I guess not enough folks wanna part with $2,000 for one lens.
Now I'm
extra
thrilled I bought a new one a few years back.

Most macro lenses need to be practically kissing the subject, like 1 or 2 inches away, to get full macro magnification, aka 1:1 ratio.
This lens can take 1:1 closeup pics from farther away - around 10 inches.
That makes it a favorite of well-informed gem photographers and insect photographers because you don't have to get as close as you do with the cheaper shorter focal length lenses, like 55, 60, 85, 105, and 150 mm.
When a lens gets too close insects and birdies are scared away, and diamonds reflect back the huge black monster lens that has to be only a couple inches in front of the diamond.
My camera, a Nikon D-810, can be set to take many pics at pre-set time intervals, like once a day, hour, minute etc.
That way I could just set up the camera on the tripod and leave it. (hope it doesn't get stolen)

That way a human will not be disturbing the birdie to get each pic.
Wish me, and the birdie family, luck.
Last edited: