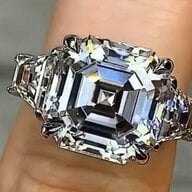 Joined

Dec 12, 2016
Messages

960
Has anyone here used it?
We have 2 rescue cats that will be 1 year this November. We got them both from the same woman, because well..they were bff's. We went in for one different kitten that wanted nothing to do with us. So we were viewing the other kittens when the calico jumped on my husband and the tuxedo climbed up on me [I was like..what is this rodent get it off me]. Anyway! When the nice lady said "I can't separate them, they are a bonded pair" ...

My husband looks at me like..please oh please oh please please..fine.. we'll get them both. Of course the black one is now the love of my life. And the calico? amazing. I've raised them like dogs [pretty amazing felines!]. But we never knew what they were. Calico and Tuxedo are just color traits they aren't breeds. So I just ordered the Wisdom DNA test and I'm curious to see if anyone else here has used one. But the odds of getting 2 long haired strays? hmmm I am betting they are from the same litter. He's a silky though and I think he's a main coon mix.