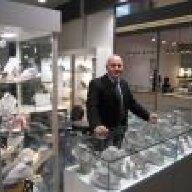 Joined

Jul 6, 2016
Messages

2
Hi!
I would like to bring up the following:

We are knows as 47th Diamond District Corp. also known as 47DDC.
I've been getting a lot of phone calls from scammed customer who fell victims to a couple of other eBay sellers using the following names:
"the47diamond" and "47diamond".

Both of these sellers are scam artists, they sell put together Rolex watches with none original parts and sell treated diamonds without disclosure.

None of these sellers are members of any association and they use fake certificates such as AGI and other similar sounding gem labs which DO NOT Exist.

In contrast, we are members of the AGTA, American Gem Trade Association and we are listed in the JBT, Jewelers Board of Trade.

This is my first time posting in these forums, I would to hear people's opinions regarding actions we could take to stop these people from scamming innocent consumers.

We checked them on eBay, they have a lot of feedback. They use small item private sales to cover up for their negatives to the eBay system doesn't raise any flags.

We used to get a call once a month from a victim, now it's almost every day so it's getting out of hand.

What can be done about these people?

Thanks!