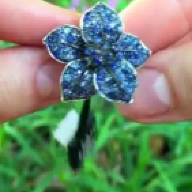 Joined

Nov 14, 2015
Messages

889
I need to start this off by saying I love our beloved recommended vendors here;
you're all great
and I definetly genuinely love talking to/dealing with many of them. However this thread is a bit of a cheeky one... from a consumer perspective

One vendor said to me once when I asked if any discounts were possible "I brought this rough ages ago but I'm already giving it to you at the same prices X years ago, not today's prices".
Ummm

a) I've done my shopping around and I know what today's prices are so.... yep you are selling at today's prices lol. And b) why would you buy rough cheaply X years ago only to hold onto it for X years then not sell it at the profit you very (ligitmetly) could be selling it for
I didn't say anything to the particular vendor because I understand the psychology of sales and etc; nothing wrong with it but thought we could share similar stories for a bit of a light hearted laugh.
Btw I did buy that stone.
Oh also another time, another vendor told me colour change stones means they change colour as they age over time....
Disclaimer* this thread isn't just referring to our vendors here but any genstone/jewellery vendor. Even mall store ones.