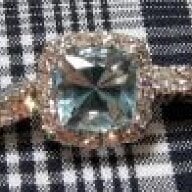 Joined

Jun 21, 2009
Messages

2,463
Dear All,
My Fiance and I drove to beautiful Burlington Vermont over the weekend to meet with an apparaiser who could see us on a Saturday.
We had beautiful weather for a change and took the Car Ferry across from Plattsburgh which was really enjoyable. Burlington is a very beautiful, rich in vegetation and everyone in the small town was delightfully friendly.
I had two stones delivered from New York and without saying anything I let her comment on them and give her opinion of which one liked better, she left the final decision up to me.
I had already purchased the GOG stone and the other one was there only on loan.
Stone #1
I found this one myself by doing a BN search and then after sending Mark at ERD the certificate had him order it from the current owner as he had specialized knowledge of this cuttor and the history with these square modern cushions cuts.
Shockingly it is NOT a chunky faceted cushion brilliant!! It is a modern faceted cushion brilliant and although the 8 pavillion main facets are thicker than a round and it displays the same star pattern of hearts and arrows and the stone has no culet.
Mark who has gotten to know me very well over the last month was very surprised I found this stone and wanted him to send it for viewing.
Cushion Brilliant 7.08mm 7.04mm 4.67mm
1.59Ct H VS1
Polish: Excellent
Symmetry: Excellent
Girdle: Thin to thick faceted
Table: 59%
Depth: 66.3%
Fluorescence: None
Stone #2
I had been waiting for over a month for this stone to finally be cut and it was very close to my ideal size. I wanted a little bigger but I was very excited to see one of these in person.
GOG Signature Old Mine Brilliant (Old Mine Cut Cushion)
6.23mm 6.25mm 3.97mm
1.15Ct H Si1
Polish: Excellent
Symmetry: Very Good
Girdle: Very Thin Faceted to Medium
Table: 53%
Depth: 63.6%
Culet: Large
Fluorescned: Faint
http://www.goodoldgold.com/diamond/6173
Her Comments:
1) Side by the side stone #1 is a lot bigger but both are a nice size.
2) Stone #1 is very bright and has a WOW factor I prefer its size and it sparkles a lot more.
3) Stone #2 has a very unique cut and is very appealing to the eye I prefer its unique cut.
4) Side by Side I prefer the almost perfect square shape of #1 with slight rounded corners to the more pillowy shape of #2.
5) Face down in front of a white background Stone #2 has a noticeable yellow tinge to it as compared to stone #1.
6) Which stone will be a better fit with a HW micropave halo design I am not sure. I want either stone to standout in the ring.
My Thoughts Silently(Him):
1)The Kozibe Effect in real life is not as cool as I thought it would be. At some angles it just looks like holes in the diamond or areas of leakage.
2) I love the rainbow of colours coming from stone #2.
3) The reflections under the table of stone #2 are spectacular and really appeal to my eye. This diamond is very unique.
4) Stone #2 does not seem nearly as bright as Stone #1 and due to its size the incredible reflections under the table can only be viewed at very close distances whereas stone #1 is very noticeable even from farther away.
5) I really wish I would have been able to see stone #2 in a larger size
6) I am a bit surprised that stone #2 had more warmth than the appraisors master I color stone and a lot more warmth than stone #1. How can GIA have misgraded this stone by 1.5 color grades?
7) Stone #1 costs twice that of stone #2 but this is only a minor consideration to me.
I cannot keep Ms. ChunkyCushionLover Waiting Any Longer and both families on either side are pushing for a quick proposal and must decide on one of these two stones very quickly.
9) Both are are amazingly bright, unique stones and the facets are much more interesting incomparison with two round brilliants the appraisor had in his office.
I am going to keep you all in suspense a day or two so I can see some unbiased poll votes and opinions. These are two of the most incredible cut diamonds I have seen and this was not an easy decision.
I will post the conclusion by mid week.
Pictures of both are in the posts below.
Regards,
CCL