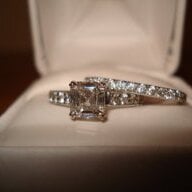 Joined

Sep 30, 2008
Messages

736
It''s only a matter of time! He picked up the ring yesterday but I''m not allowed to look at it

At first he wasn''t going to show anyone because he wanted me to be the first to see it, but he was so excited when he got it that I told him I wouldn''t mind if he showed his family (we were visiting them for the weekend). They loved it and said it was the prettiest, sparkliest ring they''d ever seen! They were there the day I picked it out but it wasn''t set yet and I changed the head. They said it''s WAY better than our pictures and even better than they remembered! I''m so excited!
Now I just have to try my hardest not to peek. K doesn''t help much with that. Last night he opened the box right in front of me so he could admire it, but faced away so I couldn''t see

He is having WAY to much fun with this. I swear, I almost tackled him. The most I''m allowed to do it hold the pretty, shiny, wooden box. But that is TORTURE.
So now I''m speculating about a May proposal. I know it''ll be before his sister''s wedding which is in 8 weeks, but he says he has to "pull some strings" for what he''s planning, so that might take a while. How am I going to hold off?!
Can I get some dust, ladies?
Is anyone else expecting a May proposal? Ilovesparkles, you are right?