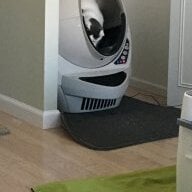 Joined

Jul 27, 2011
Messages

6,584
Sorry, DF, not boobs, bazooms or breasts!
A lot of PSers are cultivating some beautiful blooms!

Let's start a thread to shamelessly show them off!!!

I bought 1 and 2 qt hydrangea plants in April and I'm so proud that one of them - the everlasting ocean hydrangea is rivaling the 3 gallon variegated lacecap hydrangea I planted a few weeks ago and has its first flower!
I have another hydrangea that came quart size that's about to pop two flowers for me soon - everlasting revolution! One is going to be a medium pink. The other bud is still a mystery. These revolution hydrangeas are supposedly multicolor


Yay!!!!