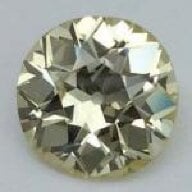 Joined

Jun 30, 2016
Messages

318
Okay, I guess I'll finally start on that new SMTB post I promised!
Backstory summary:
About 10yrs ago, my g-ma inherited a couple rings from one of her SIL's (my great aunt). One ring was a large, off-white diamond that my great aunt had received in its original setting (RIP) but reset into what can only be described as a two-tone cigar band style retro disaster. In the decade my g-na had it, she wore it maybe 5x. Once was to my wedding, and I know she wore it to a couple family member funerals, too. Otherwise, it stayed locked in a paper box with what can only be humorously described as an "appraisal". I convinced her to get it out and let me play with it on occasion. I measured it with a ruler and figured it had to be at least 3cts. Eventually, I started to beg and plead for her to let me take it to a professional who works with antique stones to get a real appraisal...or to just give it to me.

I reasoned that it existed to be worn, and that it was a tragedy it was spending its days under lock and key. My grandfather agreed; I had an ally! After conferring with my mom (who was supposed to inherit it before me), they decided to give it to me as a 31st birthday present. My mom hated the setting and said my dad would never spring for a reset. She also agreed I'd wear it more. Yippee! Free giant mystery diamond!

I dragged my g-ma with me over an hour from her home to Walton's in Franklin, TN, to get it unset and appraised so hubs and I could insure it before sending it off for reset. (If you love antique jewels and are ever in the area, pop by and say hello to the Walton's team!) The appraiser came in to assess the stone even though she was sick. Verdict: it was at least S-T in color, SI1, 10.3-10.5mm across, and 3.96cts. She recommended we send it to GIA as she believed it could be a fancy yellow...
I knew CvB had to design her new home. I had instantly fallen in love with her settings. After conferring with Caysie, we made arrangements for GIA certification. And, well, she was FANCY YELLOW!

Me, hubs, my whole family...we were all in shock!
With CvB's help, we designed a setting to play up the yellow of the diamond: a yellow bezel halo with 16 2.6mm OEC white diamonds in platinum, "coffins" in platinum set with an OEC each, and a platinum/transitional diamond detail on each side of the gallery. The rest of the gallery and triple shank were done in 18k YG.




PINCH ME! I still can't believe I own this! And I can't believe it's the same diamond. I'm including pics from when I first got the stone to the present so you can see the difference a good clean, polish, and reset can make. I can't stop staring at my hand! More pics to follow when I get in my matching YG wedding band!