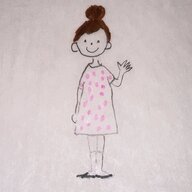 Joined

Feb 2, 2016
Messages

8,717
Had this experience recently and thought maybe I'm not the only one!

My friend throws what I consider to be a very large birthday party for her son every year. She usually has it catered with a full bar plus a rock climbing wall, mechanical bull,inflatables and a DJ. It is an event for sure but she enjoys doing this because we have gone the past six years.

Anyways, every year she has a gigantic inflatable double water slide, like 42 feet tall, you see where this is going right? I take a slide down most every year and this year was no exception. I climbed up the ladder and got to the top but I slipped and slid 40 feet down the ladder despite trying to hang on to the handle and took out all the kids behind me to boot! Thankfully everyone was okay, I found the mother of the kid directly behind me and apologized and she was totally okay with it. Probably helped that he was a teenager.

In the process of trying to hang on though I sprained my pointer finger on my dominant hand and hairline fractured my middle finger AND messed up my shoulder. Just a hot damn mess.

So, obviously I am too damn old for this water slide which I have had no problem with in previous years. It's kind of a sad moment when you realize you can't do something you were perfectly capable of just a year ago.

This little story is not a pity party or vent but more meant to be a funny cautionary tale because you never know when you will find that moment yourself.

Have you had that moment yet?