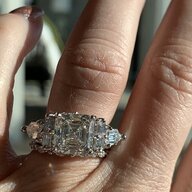 Joined

Feb 27, 2021
Messages

45
Or really, confessions of a jewelry lover. I've been creeping PS for years and finally created a profile to share in my love of beautiful things with others who love them, too. Being honest, I'm glad this is a place where one can be comfortable talking about their love of beautiful jewelry that might be taken as ostentatious by those who wouldn't care or understand.
My love started with this color-change ring my grandmother gifted my mom when she divorced my grandfather in the 60s. It's a luscious berry-purple that turns to aqua-purple in natural light (pictures aren't doing it justice). When I was a little girl I'd take it from my mom's jewelry box and play with its colors by the window. It fascinated me.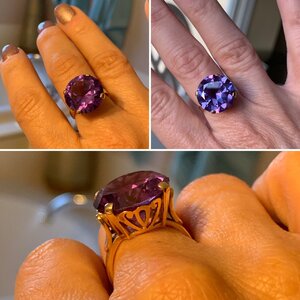 Most of my adult life I've worn the classics—wedding rings on the left hand, simple ring on the right, dainty pendant, bracelet, and studs or hoops. But I find myself broadening my horizons in terms of size, styles, and colors as I grow older. The more unique or eclectic, the better. So I'm very glad to be here to admire all the beautiful things you all proudly share, and be able to celebrate them and unabashedly share right back with you. And learn...you guys know a lot!