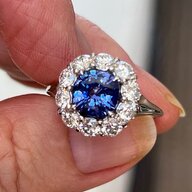 Joined

Aug 18, 2013
Messages

6,075
Well, I really have no right to be starting another thread, but I'm just SO PLEASED to be finished my collection of earrings, I decided to be a forum hog and start another thread.
A lot of people have earrings for all different occasions and moods, and originally, so did I. But the older I got, the more I realized - I wanted classy casuals, and full on bling-fest. So my earrings are in two almost-distinct groups. 14 years ago, I had one pair of .1ctw teensy tiny diamond studs. Since then, I seem to have added another ct with every year, till my collection is now sitting somewhere over the 14ctw mark.
But much more pleasing than that to me is the applicability to my lifestyle. My collection just WORKS - for me, at least - and I'm so pleased to have a comprehensive, useable, specific collection that fits my lifestyle. And on that note, let me say without question - if I could only keep all my casual pieces (hoops and pearls) or all my blingy pairs, the blingy stuff would be marching out the door without a second thought. Well, maybe a second thought, but there's NO question in my mind which ones to keep!
However, having said that, the bling is beautiful, and I feel very lucky and am very grateful to be able to share it with you now.
Without further ado, my dream team.....