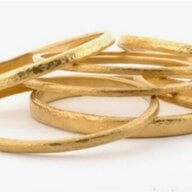 Joined

Jan 26, 2003
Messages

21,819
I felt like looking for a new cake recipe, so I thought I'd start a thread about fall baking. Traditionally, this a time when people on Pricescope start to bake with pumpkin; apples; cranberries; etcetera. And, when we do, we often end up sharing favorite recipes. I would be glad to see old favorite recipes posted again here. First of all, I am not so well organized that I always copy and file all the recipes I look at and think I might like to try. Second of all, many people will not have seen the recipes that were posted in previous years!
Naturally, I would be delighted to see new recipes posted, too!
I am posting a recipe I found for a coconut cake, which may not seem like a traditional fall recipe, but which I may bake anyway!
Cream of Coconut Poke Cake
Ingredients
1 (12 ounce) box coconut cake mix
1/3 cup oil
3 eggs
1 (14 ounce) can cream of coconut, Coco Lopez
1 (8 ounce) container Cool Whip (I will substitute whipped cream when I make it as I do not like Cool Whip.)
2 cups shredded coconut
Directions
1. Preheat oven to 350 degrees (or as directed on cake mix package).
2. Mix together cake mix, eggs, and oil.
3. Stir in 1/2 -1 cup coconut.
4. Pour batter into 9" x 13" baking pan.
5. Bake cake according to directions on box until it passes the toothpick test.
6. Remove cake from oven and cool slightly.
7. While cake is still warm, poke holes in it.
8. Shake the cream of cocnut well to make sure it is very well blended, then pour over the cake, making sure to get the edges, too.
9. Allow cake to cool.
10. Ice cake with Cool Whip or whipped cream and then top with remaining coconut.
11. You can tint the coconut on top with food coloring for any holiday.
Deb/AGBF