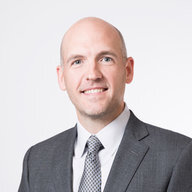 Joined

Dec 22, 2008
Messages

209
Five months or so ago, I started asking this community for help finding an Asscher for a pendant. Due in large part to that help, I found a good stone!
In July, after reaching (or trying to reach) 5 different designer/makers, I decided to go with Caysie Van Bebber (CvB Inspired Design) to make the setting. For those interested, she was frank with me when we first spoke that the process would take quite a while, estimating a maximum of 16 weeks (it took around that long, too). Despite the wait, she was always easy to reach (using "WhatsApp").
I had designed a setting in a CAD-style program I use for work (I reconstruct motor vehicle accidents). Having never designed a setting before, I didn't know whether what I put together would work, structurally. Caysie said it would, and her folks used my rough examples to create a spot-on CAD that was exactly what I had in mind and then proceeded to bring it to life beautifully.
The halo stones are tsavorite. The windmill extensions are step-cut diamonds of the same color and clarity as the center stone. Metal is 95 plat. I put it with a 1.2mm platinum wheat chain at Caysie's recommendation.
Overall, working with her was an absolute pleasure, and if I ever find myself hankering to do something like this again, I wouldn't hesitate to reach out to her again.
Here is the CAD-like drawing I did to show Caysie what I had in mind (in a little animation), followed by her team's CAD mock-up, and then, finally, a video and several photos Caysie took and sent me before its arrival this Monday.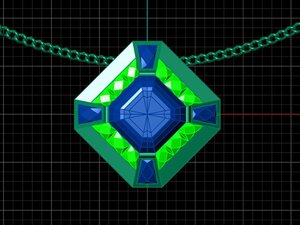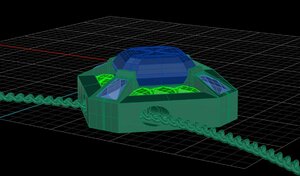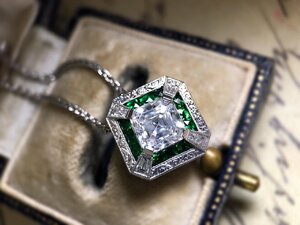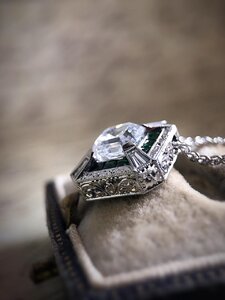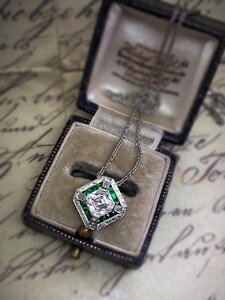 I'm going to tag the folks who had contributed to my previous posts about this project, so they don't miss it!
@Karl_K
@princessandthepear
@headlight
@AV_
@whitewave
@scarsmum
@OoohShiny
@Texas Leaguer
@Ceilimom
@ringo865
@Matthews1127
@KKJohnson
@sep004
@lovedogs
@MissGotRocks
@Diamond_Hawk
@LLJsmom
@the_mother_thing
@Weecam
@rainydaze
@gregchang35
@tyty333
@Garry H (Cut Nut)
@Gnmu
@Dancing Fire
@LinSF
@diamondseeker2006
@arkieb1
@PreRaphaelite
@Lessics
@Bfelix
@CHRISTY-DANIELLE
@Rfisher
@ksage92
@Daisys and Diamonds
@cmd2014
@marymm
@lydial
@MollyMalone