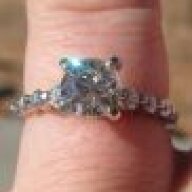 Joined

Nov 20, 2008
Messages

755
Soooo my grandfather has already sent us our wedding gift. (6 place settings of our gorgeous Vera Wang flatware!!!)
This puts me in the awkward position of having to order stationery before I really had time to think about what I wanted!
So. I know that formal etiquette states that I have to use my full and proper name (Caitlin, even though I've always been Katy to everyone.) Should I use Caitlin Middlename Lastname, or just Caitlin Lastname?
Alternatively, should I use a monogram instead?
Basically, I want to know what stationery you ladies all had for your maiden name, whether you had full name or monogram, and if you wished you had the other?
I know it's basically a matter of personal preference, but I really cannot decide! And if one is more proper than the other, I prefer to use that.

In addition, I've always thought that I knew proper etiquette for writing thank you notes, because I believe my mother told me post-bat-mitzvah that it was not proper to start a thank you not by saying "Thank you for...", rather that you should say something along the lines of "It was so wonderful to see you after all this time! Thank you so much for..." But in my stationery research I saw something that said proper etiquette is to start the note off right away with the thank you. Haven?