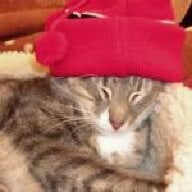 Joined

Aug 14, 2009
Messages

23,512
The finally final end of my WSS saga
I posted a few months ago about going to Mikimoto to look at WSS stud options - and being largely unimpressed.

https://www.pricescope.com/communit...to-nyc-and-musings.264641/page-6#post-5010445
My dear friend
@Crystal_Dreams
gave me her Paspaley SA's contact information and offered to go in and take a look at what they might have. Nothing sang to her on her first visit, but a mere two days later her SA told her that a pearl board had just been released... And that she just happened to be in office that day.
I had no idea what a "pearl board" was. Turns out my request couldn't possibly have come in any more fortuitously - blind luck with absolutely perfect timing!!!!
Per Paspaley, harvesting happens only once a year, between July and October. Sorting and grading then takes several months, so pearls from a given harvest year don't reach the boutiques until the following calendar year. At the end of grading, the few pearls (of any shape or size) from a given harvest that meet the highest standards in all grading categories (luster, complexion, and colour) are examined by the Paspaley family, and the family decides whether or not those specimens are nice enough to be called "Harvest" pearls.
The Paspaley family keeps a selection of the very bestest pearls ever retrieved - these are Harvest pearls from many years of harvests - in a family chest. The pearl board practice is unique to the Sydney flagship store: Occasionally the family will decide to release a limited number of Harvest pearls from the vaults for sale. And by "occasionally" they really do mean occasionally - there have apparently been only two pearl boards in nine years!! The SAs aren't told when a pearl board might come out, so those reps who happen to be working at the right time on the right day in the right year get first dibs on nabbing specimens for their clients
@Crystal_Dreams
very kindly went back to see the new selection
And there were three pearls that she thought would be right for me: A 12mm pair and a 14mm singleton. I'd only planned on buying a pair, but after watching the videos she sent me several dozen times... Well, we've got the same eyes when it comes to #PearlParticularity so I knew that she knew
exactly
what I was looking for. And goodness knows I hadn't had any luck finding anything that suited in the US. And here were three rarities being offered to me on a literal platter, I knew I'd be kicking myself later if I let any of them disappear!!
Our SA made purchasing internationally so easy. I haven't a clue how I'd have managed it without her. I bought all three loose and undrilled so that I'd be able to return if needed. And then I got my package - and - yeah, no, no returns, definitely no returns. All the words I come up to describe these pearls are so woefully inadequate!!! They're spectacular. Clean, smooth, and lustrous... With these seriously hypnotically strong contrasting overtones... When they were loose I'd drop them all into a litle suede pouch and stick them in my pocket and pull them out randomly just to stare, I spent SO long just staring at them

Okay enough talk. Y'all know I can yak. Pics. Pics!!
- - - - - - - - - -
This is the Paspaley family board

There are a few photos on Paspaley's blogs - that's where I grabbed this one from.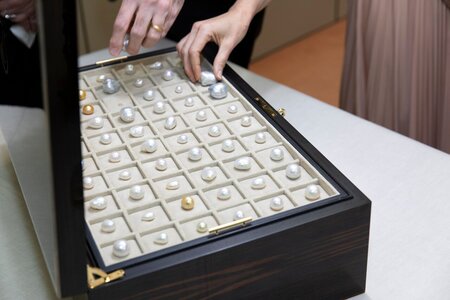 And here's a video
- - - - - - - - - -
First look at my three Pearls of the Harvest!!
In the kitchen probably around midnight because what better time to open packages.
I pulled my old Pearl Paradise pair out for comparison - smallest pair is Pearl Paradise (11.9mm), middle size is the Paspaley duo (12.7mm), and the largest is the Paspaley singleton (14.4mm)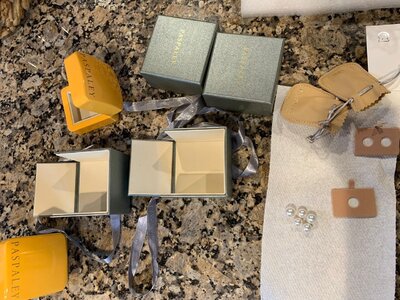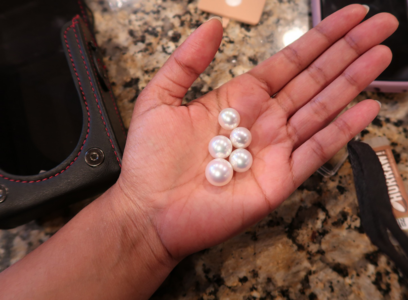 - - - - - - - - - -
All five are sublime. Super "metallic" with super sharp and contrasty reflections. The Paspaley pair has the strongest multicoloured overtone I've ever seen in any white pearl - pink and teal

The Pearl Paradise pair and the Paspaley singleton are remarkably well-matched in colour (equally strong pink, less on the blue).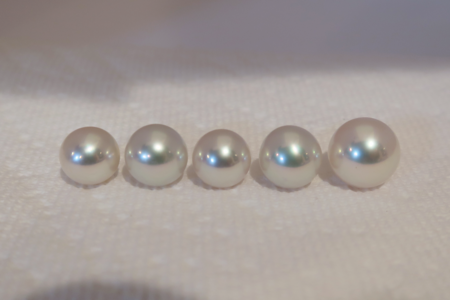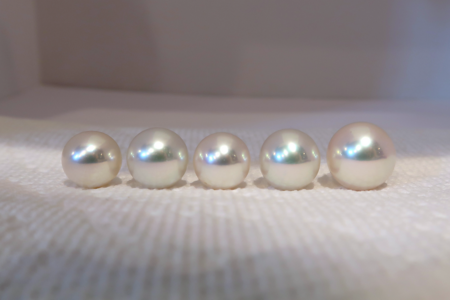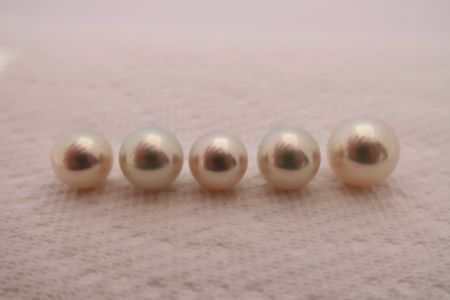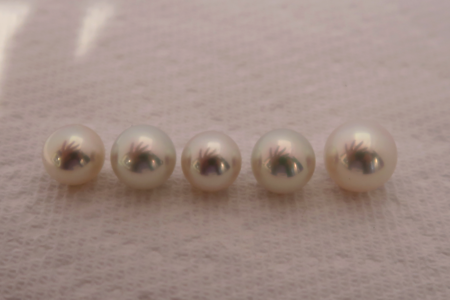 - - - - - - - - - -
And a closeup of one pearl from the Paspaley pair (left) and one from the Pearl Paradise pair (right). Very different overtones, very similar luster!!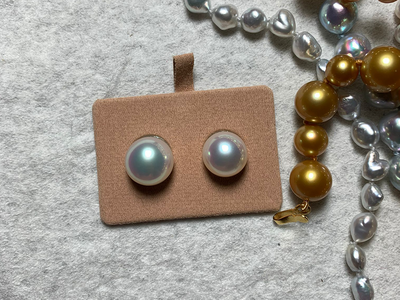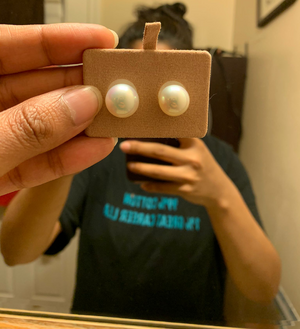 - - - - - - - - - -
Couple fun photos of most of my South Sea babies
The white rounds - the Paspaley singleton at the bottom, then the Pearl Paradise pair, then the Paspaley pair, and finally my 13.4mm Pearl Paradise golf balls. And the strands - the two deep golds are from Pearl Paradise and the champagne and white keshi are Takahashi scores
Deep GSS studs from Pearl paradise are missing for some reason...
And that champagne strand has since been restrung, ignore the painful spacing!!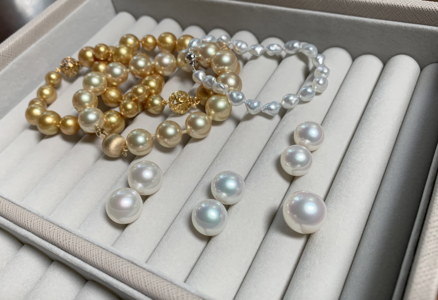 - - - - - - - - - -