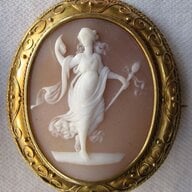 Joined

Apr 17, 2002
Messages

3,890
I saw this OEC in the booth of an antique jewelry dealer and was tempted. It's very fiery and lively. It has a small table and a big culet. The cut is not very symmetrical, but I don't mind that in an OEC. The dealer told me it was "about a carat" and "very white," which she said was based on her own evaluation of the diamond in its setting, not on an independent appraisal or lab report. The setting is 14K yellow gold in a style popular in the late 19th-early 20th century, very simple; if I bought this, I would probably reset it.
I asked how white? She said G/H. It does face up pretty white, but I definitely saw yellow from the side--I'm guessing it's J or lower. I inspected it through a loupe and saw a little chip or natural on the girdle, and nothing else glaring, though it was a little smudged/dirty, and something could be hiding under a prong. This seller has some lovely antique jewelry, and the stuff that I'm knowledgeable about is generally accurately described. Her prices for items I'm knowledgeable about are generally not outrageous, but not super cheap either.
These photos show the OEC ring on my pinky, with my 1.4mm round sapphire on my ring finger. The settings are about the same height.
Does "about a carat" look plausible?
Would you be tempted by this diamond? If so, what would consider a decent price?