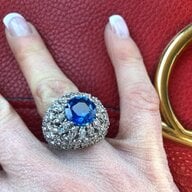 Joined

Dec 25, 2019
Messages

70
Wow, where to start.
I'll just jump in.
I've been quietly curating my jewelry collection and selling off most of my sterling silver pieces and "mall" jewelry (Tiffany silver, Ippolita, David Yurman, etc) to make room for quality pieces. Part of this process was staying away from designer pieces. My thought being that I don't need to overpay for designer pieces like I have in the past.
So why then did I wander into Bloomingdales the other day and become transfixed before the Temple St Clair display? I've heard all the hype. Celebs wearing the brand and a piece being inducted into the Louvre. Yea, ok, but it's just lowly moonstone which in my mind is certainly not a precious gemstone. So I figured, ok, go prove it to me.
Well, I looked down in the case and asked to see the simplest moonstone necklace. Cabochons bezel set all way around with diamonds. The second it was around my neck, it lit up like it was electric! Technicolor light show dancing all over the place. Simple and classy yet wearable! OMG! I was truly shocked. Now I saw what all the fuss was about. Yes, this was not just moonstone. This truly was royal blue gem-quality moonstone.
Then I looked at the price tag....$24,500!
So I went about my business not thinking about TSC again but occasionally glancing at the website and thinking how even in the professional pictures there, the moonstone doesn't look as magical as it did when I saw it in real life.
Then I was visiting my lovely jewelers and he says he has a pre-loved TSC moonstone necklace that has a lot of interest but hasn't sold because, frankly, photos make it look flat and dull. No matter how hard he tries it just refuses to be photographed.
I say let me put it on and let's see if we can capture it.
I put it on and fell helplessly in love . It sits perfectly on my collarbone. It glows with such a magical electric intensity it lights up my face and then the room. Each movement allows the blue-rainbow to dance across each stone all undulating in synchronicity together. It's etheral. Magical. It's something truly special.
I haven't taken it off since!
Here she is. Temple St Clair moonstone cabochon necklace set with four diamond stations and four tanzanite stations. I tried all night to to photograph her but she abjectly refused so I attach the website photo. In that photo my necklace is the two strands in the middle of the picture. Because she refuses to be captured on film and curls up and goes flat and dull whenever the camera comes near her,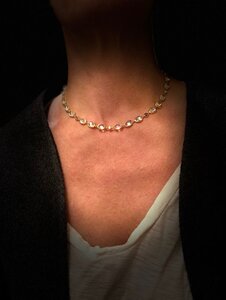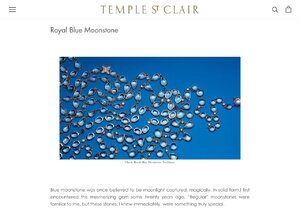 I have named her Greta Garbo.
Meet Greta