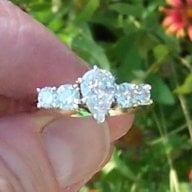 Joined

Jan 2, 2006
Messages

2,194
what were your successes?

what did you try new? What worked? what didn't work?
what will you try next year?
what is your teacher pet peeve(s)?

I'll go.

Successes: I teach students who are not traditional college bound students. I teach in a ghetto. Chemistry is now a required course for all students in our state. I teach regular kids, immigrants (english language learners), lazy kids, stupid kids, special ed kids, nice kids, sociopaths, ex-cons, teenage mothers, 17 year old crack babies, smart kids, kids on welfare, kids who don't know here their next meal is coming from. you name it. a real mixed bag.

i have two kids who turned out to be real smart, and are doing well in chem. other teachers say you get work out of them? they are failing my class! these boys want to be chemists /lab technicians now. i have told them all sorts of haz mat, fire department, medical center, and chemical plant stories. It's nice to hear once aimless kids say "I want to be a chemist-- I want to work in the lab in the chemical plants!" they even looked up a special program for chem lab tech at san jacinto junior college nearby - a special 2 year program for chemistry lab techs. one kid may even go to Rice University.

What worked: daily quizzes. easy to grade, quick to hand back, kid get instant feedback. grading homework makes me insane.

What didn't work:

the kids don't read their textbook. I think I will give reading assigment quizzes next year.

5 years later, I still have not worked out the notebook problem. when you and i went to school, college bound student kept a notebook and didn't lose things, well these kids are not like that. they don't realize or don't care or don't "connect" that they may need that paper to study for the final exam so they throw it away. I tell them at the beginning of each semester to put away in a folder or binder. the obviously college bound students keep a neat notebook. the others fling their papers then don't have anything to do for the final exam review. when i give them the final exam review, it's on them. they have a book and their notes. I do not reteach. "no notes, sigh, oh well, sucks to be you....how are you going to study for your final?"

i have noticed that those students that I have for a repeat year are a lot more mature and have learned that I give a quiz every day and that i have no sympathy for those who throw lessons away. they pass with flying colors the second time around.

I can't make someone develop maturity or organization. so the notebook issue continues to be an issue. I have tried keeping an organized notebook in the class, with notebook checks, etc, but all it did was make me crazy and I don't have room. Any suggestions? i have purchased binders for student who spoke with me privately that they couldn't afford one.

What i tried new: foot square white marker boards. chem kids love it to work their problems, they hold the answers up and i can see immediately who is struggling. success.

teacher pet peeve: "miss, what can i do to pass your class?" on the next to last day of school.

"Miss, can i come for tutoring?" on the next to last day of school. "No, the lessons for that unit are boxed up. you should have come then. Your grade stands... if you pass the final exam, i will pass you for the class. "

Students who have been truant for the entire grading period and come storming in wanting to know "why I am failing them".

edited to add: This has been a superb year for me. very rewarding. small classes that were relatively easy to teach. not many behavior problems. excellent staff and co-workers. 2006-7 was a very good year.