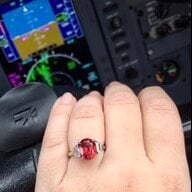 Joined

Jun 5, 2011
Messages

1,298
As I came home Saturday evening, I was so excited I could hardly breathe. I knew I had a package waiting for me from Steven Kirsch. In May I sat a major exam and the package contained my reward for passing. My hands were shaking as I opened the box. I had taken a huge risk deviating from my favorite stones (sapphire and ruby) for such an important and potential heirloom piece. This ring has a tanzanite as the main attraction. As I shook the gold embossed navy suede pouch into my hand I was hit with a sudden wave of worry. Had I made a mistake?
The ring came in a charming presentation box, simple and classic. Just like the pieces I tend to commission from Steven. I pressed the small brass button on the navy leather exterior to open the box. The interior is just as handsome, velvet with the ring angled up with the perfect first view and satin backing featuring Steven's logo.
The ring is exactly what I would have most hoped for. Opening the box instantly assuaged all my concerns. The stone is the perfect mix of blue and purple and the tone varies by the lightening source. The proportions of the ring are perfect. The metal is perfectly smooth and feels like satin as I slide the ring onto my finger.
The center is a perfect purplish blue untreated Tanzanite. It reminds me of a super saturated bluebonnet. Like a little piece of home to wear around on my finger. The shank tapers gently up to the side stones. The step cut trapezoids enhance the beauty of the Tanzanite without overwhelming or distracting from it..
As you may have noticed I am extremely pleased with the final product. The center stone from Hemi is gorgeous and Steven has worked his magic finding the ideal side stones for a balanced elegant final piece.
The Tanzanite
Vendor: Hemi Englisher of GemCal.
Cut: Emerald Step Cut
Carats: 6.18
Measurements: 11.9x8.8x8.3mm
Color: Violet Blue
Saturation: Moderate
Clarity: Nearly Loupe Clean
Enhancement: None
Side Stones
Vendor: Steven Kirsch
Carats: 1.25 tcw
Cut: Step Cut Trapezoids
Color: E
Clarity: VS1
Setting
Vendor: Steven Kirsch
Metal: Platinum
Design: Three stone with double claw prongs
Size: Six