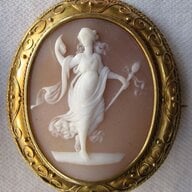 Joined

Apr 17, 2002
Messages

3,802
Hello, jewelry friends. I got this little art deco stickpin at a charity shop. It has a 3mm carré cut diamond that looks very clean and white to my eye, twelve single-cut diamonds, and a little emerald. The main diamond has fairly strong blue fluorescence, which I think is cool. The piece is unmarked, but I think the stem is white gold and the head is platinum, going by the colors and weight.
Please talk me out of converting it into a ring (I have way too many rings) or a pendant (I don't often wear pendants).
Also, how big (in carats) is a 3mm carré cut? And did they have synthetic emeralds back then, or is this tiny emerald likely to be natural?
(I'm really mostly just posting to share this pretty pin with people who will appreciate it.)