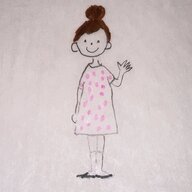 Joined

Feb 2, 2016
Messages

8,144
I know I already posted today but I need advice and I realized there is nobody in my real life I can talk to about this.

If you have read some of my posts this year, you know my husband and I have had some problems, so that combined with this morning has me shaken up. My husband's job recently changed from being solo in a truck all day to working in an office. There is this one name that is coming up here and there in conversation....Jenna.....you see where I'm going here right?

She is young and has a boyfriend, I don't know much more. This morning he let me know when I texted him to say good morning and they were working together this morning so I take that as she is aware of our texts and my responses. He sends me this map and said Jenna said we could bring our dog there, maybe meet up with her and her boyfriend at some point. What is interesting about this there is a lake I drive to that is dog friendly, they can go off leash and everything. I went this past Sunday? It is an hour drive, he opted not to go and stayed home with the kids. So I asked him why he will consider this but won't come with me to the lake? He responded that it is a shorter drive and sounds like a shorter walk. So I respond with "okay". His next text is "holy green eyed monster batman, you seemed upset there for a minute". Then he asks me how I am doing today, like he is trying to feel me out.

He has a company phone so if he wanted to talk to someone he could totally do that and I would have no idea. He always says I can look at it or his personal phone anytime but he also deletes stuff off his phone regularly to keep space on it free, so he claims.

I'm having a serious physical reaction to this, shaking and I feel sick, I have never experienced this before so I don't know why I'm having this reaction.

Am I totally freaking out for no reason?