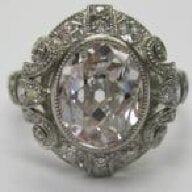 Joined

Jun 6, 2010
Messages

6,680
How would your life change if you won the lottery, say 100 million, after tax (since we're playing, we might as well go BIG!)

Here's my answer:

DH and I have played with this question a few times and always have the same answers. We would pay off our mortgage, renovate our 30 year old home to my satisfaction, put aside at least 10 million for retirement, set up trust funds for the kids (to be handed over when they turn 25), pay off my parents and sister/BILs mortage, set up college funds for all of the kids, and maybe buy ourselves one luxury item (DHs would probably be a car, specially designed for him, since he's 6'5 and doesn't fit in any sports cars...mine would be jewelry, that's a no brainer).

After that, we both agree that we'd donate the rest to various charities around the world. DH wouldn't want to stop working and I wouldn't want to stop all of the volunteering I do in the community. I'd still shop at Target and TJ Maxx, though I might stop clipping coupons and going to two grocery stores each week to take advantage of their promotions, lol!