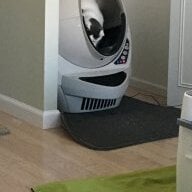 Joined

Jul 27, 2011
Messages

6,583
Greetings and Salutations!

2016 will forever go down as the year that Pinto Bean kicked off the college fund for the children of
IDJ
.

Who are we kidding - at the rate tuition is rising, I probably paid for one child to take ONE COURSE

Now for the bad stand up comedy warm up (the above wasn't bad enough, clearly): "After I got my 4.02 K VVS2 EC (Miami) I started getting DSS and decided that the solution was to add a Cadillac style stack of rings and make me a mega stack that screams NOUVEAU Lionel Richie!"




OK so after I finished Miami in NOLA I got a little sad because I

projects! DH said, why don't you do another project? (All the single ladies - if you come upon an enabling bling man, SNATCH HIM UP! You will be so happy

!) So, I embarked on what became known as the "Sassy Marquise Ring" project. I liked that the marquise at a lower carat weight would give me the finger coverage I would need to make my size 9 finger feel like a juniors size 5. I didn't want a vertical marquise, even though I DO have long fingers because I can't "unsee" the thing I keep seeing when I see a vertical marquise. I also didn't want an unadorned east west marquise because I'd feel like there was an eye staring at me. I happily found a cute east west marquise inspiration - a vintage ring that had 3 petals on each end - like a cute flower! then I started seeing this style of setting EVERYWHERE, but mostly for rounds! So we used this vintage ring as the jump off point and made modifications, e.g., the profile was too busy on the vintage ring so I simplified it. I wanted milgrain. In lieu of little marquises in the petals, we went for round melee for the added sparkle.
MQ stats:
Meas: 9.68x4.56x2.52mm
Carat Wt: 0.65 ct
Color & Clarity: E VS2
Polish: Excellent
Symm: Very Good
Fluor: Faint
So once I got Sassy marquise going, I'd get bored and cruise the big bling. I NEVER look at SI-2, but for fun I started looking at videos of SI-2- I really like the ones that are more black than bling because they make me giggle

Well, I stumbled upon a unicorn, and I grabbed a hold of it and never let go... It is eye clean with a prongable feather. It has lots of feathers in general that aren't visible to the naked eye, save that one that's hiding under a prong. I have dubbed the unicorn POLLO because of all its feathers.
carat wt: 3.03
color: I
clarity: SI2
cut: Excellent
polish: Excellent
symmetry: Excellent
Fluorescence: None
l/w/d (mm): 9.25*9.20*5.77
Oh yes, then I went back and looked at Yennyfire's thread on her cabs and jackets and needed some colorful gum drops in my life, and went hog wild shopping Stachura. I ended up setting one pair - 5mm blue sapphires in 3 claw prong studs. I then added 0.75 ctw earring jackets to dress them up.
INCOMING!! picsplosion!!!