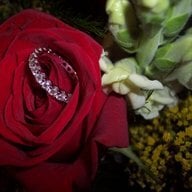 Joined

Dec 18, 2007
Messages

3,793
Hey there! I have been asked to sing at a friends wedding during the ceremony, at the beginning i think... I have done this before for a friend. One of my best friends got married a couple of years ago and I sang during the ceremony with a pianist - "Answer" by Sarah MacLachlan. it''s a very pretty, shorter soft song and it sounded very nice in the church.

I am having some trouble thinking of other songs that would sound nice and be appropriate. I am not sure she has any ideas on WHAT i should sing, so i just thought i''d pop over here and ask you ladies if you have any recommendations? I would prefer not to sing a hymn, or a really religious song, but I would if she asked me to. A few of the "walk down the isle" songs were inspiring on here....i really liked that "runaway" song by the coors.

So, the few that i have thought of were:

Answer - sarah maclachlan
Angel - same as above
At Last - Etta James
Runaway - the coors
The Long Day is Over - Norah Jones
Come Away with me - Norah Jones


could you ladies rack your brains for me and suggest anything you''d like to hear sung at a wedding ceremony? i would be so greatful!