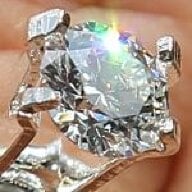 Joined

Apr 25, 2014
Messages

7,431
Hey all,
I'm not sure if this should be in RT or somewhere else
but I couldn't really see anywhere else it would be suited for, sooooo...
Basically, I am struggling to make a decision on a wedding ring for me.
My good lady is pretty much decided on a 2.5mm Platinum band with small milgrain edges and some form of 'flowery' engraving round it, as having tried rings with diamond melee in them, diamonds take attention away from her engagement ring's CBI stone, which should naturally have pride of place
But... I am struggling to choose. I want something different and have pretty much settled on a patterned Damascus Steel ring, because I like the 'honesty' of being able to see how it is constructed, and the fact that it is a little bit different
However, the price on the website I found is not the price in the store - the website appears to be somewhat out of date, so whereas the ring was looking like a cheaper option, it is now about the same price as a plain platinum band for me.

My internal struggle is over whether I should choose the Damascus Steel ring because it's cool / I like it / it should be the only one I ever have, or whether I should get just a chunky plain platinum band for the same money - after all, in a worst case scenario, a lump of pretty steel is going to be worth a lot less to a pawnbroker or 'cash for gold' place than a lump of precious metal...
I know this is entirely a personal decision but I just feel like I need to bounce my dilemma off the trusty PS forumites to get some external views and/or validation!

So, thank you for listening to my rambling indecision
lol