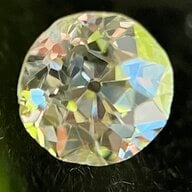 Joined

Dec 16, 2007
Messages

24,487
Hello everyone! I'm back again after a long hiatus for a new ring project. I just love sharing that process with this community. This will be my first ever coloured gemstone project!
Last time I was here was back in 2019, when I re-set my precious 1.89ct American Cut into a glorious 3-stone setting made by Caysie of CVB Inspired Design fame. I got the ring in the fall and I never did get around to posting a thread showing off the setting because shortly after, the entire world shut down. Anyway, it's four years later and I still adore that ring, just for the record. I have kept it pristine and it brings me great pleasure to wear.
You can read more about that saga here:
Hiya everyone! I haven't been around in a while, but I am embarking on a new project so I thought I'd come see if any of my old friends are still around and want to play.

I spent the last couple days lurking in SMTB and checking out some old threads. It's fun to see what's changed and what's stayed the same. I see some new faces, but lots of familiar ones too! Old cuts are as popular as ever, maybe even more so than the last time I was here. I see that some of you have been very very bad girls and acquired very very huge rocks!

Is four carats the new two carats? I sure hope so! And I see so much yellow gold! And three-stones galore! I came back at the perfect time

The last few years have been a whirlwind with no time for diamonds. I spent the better part of the last few years renovating a 100 year old house. I guess my love of old things knows no bounds! I also got tenure at my job. And I had a health crisis that I am thankfully recovering from now.

And

I still love my George!

But she needs a new home. My ring size changed quite dramatically as a result of my illness, and I don't want to compromise my glorious antique setting by stretching her beyond her limits. For the past two years, my dream ring has been languishing in a drawer! C'est dommage!

Something must be done.

So I'm going to reset my precious into... drum roll please... a three stone! I'm finally gonna do it!

For realsies! And I'm gonna document the process in this thread. Who wants to come along for the ride?
And here is the finished product.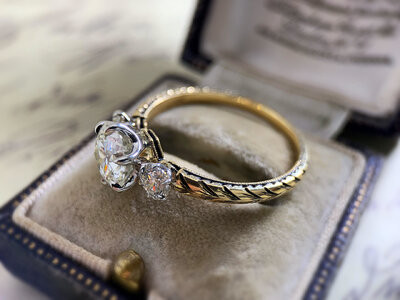 (To be continued)