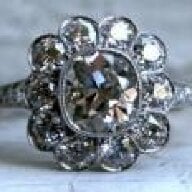 Joined

Mar 8, 2010
Messages

1,255
I know this topic comes up now and then but I found too many answers when doing a search. I know lots of you stack!

Question 1:

I want to make a stack for my left hand to wear from time to time. My ring size is a 5, but for most rings (2-3mm band) I usually size up and add beads so it goes over my larger knuckle a bit better, leaves room for swelling, but also stops it from falling off when my hand is cold. A true size 5 can be much too snug for me at times...a little loose at times when I am cold but that bothers me way less than it being too tight, as long as it is not going to fall off.

I want to get a 3mm ring (standard fit), and two bands that measure between 1.2-2.2 mm (taper) for a total of 5.4-7.4 mm.

I would always wear these three rings together, though they would not be soldered. I would not add more rings to them.

Would it be appropriate to size up to a 5 1/2? Or some other size?

Question 2:

Sort of same question! I want to get a 3mm or 4mm band (comfort fit) to wear on my right at times with another 2mm ring. My right ring finger is between a 5 1/4 and 5 1/2. My ring is a 5 1/2 but does have sizing beads in it too as it was a little too spinny and floppy without them. It never feels too tight, though I do have to work it off knuckle a bit.

Do I size the 3mm or 4mm band up to a 6? Or some other number? Some say comfort fit fits 1/2 size looser to begin with, which would suggest I should stick to a 5 1/2, but I am not sure how acccurate that is.