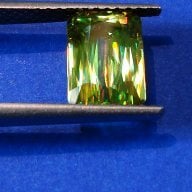 Joined

Sep 17, 2008
Messages

8,000
http://www.gubelin.com/en/gemmology/news/switzerlands-ssef-and-guebelin-gem-lab-agree-to-harmonise-pigeon-blood-red-and-royal-blue-standards
I couldn't post the entire title as I wanted due to constraints, this is a seriously narrow definition! good, not good? please read and comment below!
SSEF & Gübelin standard for "pigeon blood red" rubies and "royal blue" sapphires:


1) Colour criteria:

For a ruby or sapphire to qualify for the term "pigeon blood red" or "royal blue", respectively, the colour has to be an intense, saturated and homogeneous red or blue. The exact ranges of hue, saturation and tone are defined by sets of masterstones. A comparison of the independently created sets held by both laboratories, Gübelin and SSEF, has shown that they are very consistent.

"Pigeon blood red" is best described as a red colour, with no apparent colour modifiers (such as blue or brown). A minute purplish tint is acceptable. The body colour of pigeon blood red rubies is complemented by a strong fluorescence when exposed to ultraviolet light. This fluorescence is caused by high chromium content combined with low iron content, and results in the distinct "inner glow" coveted by ruby connoisseurs.

Historically, the term "pigeon blood red" was introduced for rubies which formed in marbles of the Mogok Gemstone Tract in Burma (Myanmar), and which are characterised by a very low iron concentration. With the discovery of additional ruby deposits in marbles in Burma, such as at Mong Hsu, and in other countries, this term is no longer restricted to rubies from the Mogok region. Nonetheless, most rubies from places other than Burma contain higher concentrations of iron that suppress fluorescence, and consequently do not comply with the labs' criteria.

"Royal blue" is best described as a saturated blue colour, either pure or with a very slight purplish tint. While "royal blue" is a term that was historically coined for the best quality of sapphires originating from the Mogok area in Burma, sapphires from other metamorphic deposits, such as those found in Madagascar and Sri Lanka, may also display the properties required to qualify for the "royal blue" term.


2) Quality criteria:

In terms of quality, these colour terms can only be applied to rubies and sapphires that exhibit fine qualities, and have not undergone any modification of colour and/or clarity.

Any type of treatment (such as heating, fissure filling, etc.) disqualifies them from being described using these colour terms. Furthermore, they must be relatively free of eye-visible or dark inclusions, and they must show a homogeneous colour distribution with vivid internal reflections.

The size of the stones is not considered a criterion, meaning that small rubies and sapphires may qualify for these colour terms.