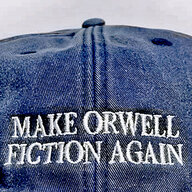 Joined

Apr 30, 2005
Messages

28,533
Apparently it's been up for a while but I just noticed.
Superb film!!!

It's about what the investigative reporters of the Boston Globe's had to go trough to bread the story of the widespread child molestations by priests, the the RCC's cover up, in 2002.
It is an astonishingly well made film.
It won lots of awards.

After watching it I wrongly assume the RCC could come out swinging against the film.
I was wrong.
I think the RCC 'gets it'.

Snip from Wikipedia's entry about the film:

Reactions from the Catholic Church
Prior to the film's release, Cardinal Sean O'Malley of the Archdiocese of Boston issued a statement in the archdiocese's official newspaper, stating that the "media's investigative reporting on the abuse crisis instigated a call for the Church to take responsibility for its failings and to reform itself—to deal with what was shameful and hidden."[36] O'Malley had not seen the movie at that time but planned to do so according to a church spokesman.[37]

On November 9, 2015, a review published by the Catholic News Service called the film a "generally accurate chronicle" of the Boston scandal, but objected to some of the portrayals and the film's view of the Church.[38] On the Catholic News Service, auxiliary bishop of Los Angeles Robert Barron said that it is "not a bad movie", as it shows that the wider community shares the responsibility for sexual abuse committed by priests, but that the film is wrong to insinuate that the Church has not reformed.[39]

Vatican Radio, official radio service of the Holy See, called it "honest" and "compelling" and said it helped the U.S. Catholic Church "to accept fully the sin, to admit it publicly, and to pay all the consequences."[40] Luca Pellegrini on the Vatican Radio website wrote that the Globe reporters "made themselves examples of their most pure vocation, that of finding the facts, verifying sources, and making themselves—for the good of the community and of a city—paladins of the need for justice."[40][41] In February 2016, a Vatican City commission on clerical sex abuse attended a private screening of the film.[42] Following the film's Best Picture win at the Oscars, Vatican newspaper L'Osservatore Romano ran a column assuring that the movie is "not an anti-Catholic film", and Vatican Radio revealed that clerics in Rome have been recommending the film to each other.[43][44][45]