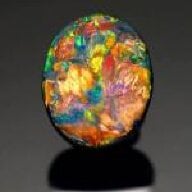 Joined

Jun 27, 2012
Messages

1,349
Does it exist? I had a stone that I sold on LT a few weeks ago, it's a big mahenge spinel. Pink.
I met this purchaser who wants the spinel to look the same all the time, doesn't shift at all, stays the same under strong sunlight and under CFL. Her jeweler told her that the best mahenge spinels are like that.

I have seen hundreds of mahenge spinels, good or bad, not one single stone stays the same under all lighting condition. If it's a good spinel than it has that strong fluorescence under sunlight, which means it will look differently under other lighting(without strong UV). That's just my understanding.

Another puzzle I have is about tilt window. The stone I sold to her has absolutely no window from front view. But since she choose a tension setting that is pretty open so she wanted one that has no tilt window at all. Does it exist also?

It's for her e-ring so I want her to find a stone meets her goal as well, Maybe those really sleepy spinels are her best candidate? I know really sleepy spinels tend to hold its color better than brilliant ones. And the opaque body helps with the tilt window too?