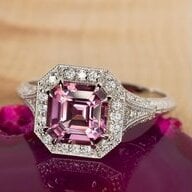 Joined

Aug 19, 2009
Messages

5,757
For Sale:
https://loupetroop.com/listings/rings-colored-stone-center/spessartite-garnet-set-in-antique-yellow-gold-setting-with-diamonds
This gorgeous fireball has big hand presence and is so flashy and fun.
I got this spessartite from minousbijoux on Pricescope years ago. It makes me smile every time I look at it. Most of the time it is a glowy orange-red. It takes on more brown in some lights but is always lively and has red and orange flashes.
This is a not a precision cut stone and minousbijoux did not have any stats on it when I got it other than natural spessartite garnet.
I had
ID Jewelry
set it into an antique yellow gold and diamond mounting. I do not know much about the setting. I got it from an estate sale in Maine. It has 6 melee diamonds on each side (12 total). The diamonds are white and sparkly and the setting was sold to me as from the late 1800s/early 1900s.
ID Jewelry
put on a new head, made tiny claw prongs, and polished the setting. From the side, the prongs look slightly uneven to accommodate the non-precision cut of the stone, but I do not find it noticeable when wearing.
I love this ring, but it turns out my hands really are as pink-toned as they look in the photos and I realized that I pretty much exclusively wear blue/pink/purple/cool tones, and this gorgeous red-orange doesn't really work for my skin tone.
My loss is your gain. This is a great statement piece. The spess is set high and looks fabulous. I get wonderful comments every time I wear it. My Tiffany-loving coworker stopped a meeting to ask about it the first day I wore it
Price includes insured shipping to the US and Canada. International buyers considered on a case by case basis.
I am bella_mezzo on pricescope.
*apologies for the blurry photos. We are in the middle of moving, so I only have my phone for photos as everything else is packed. All photos are filter-free and unedited except for cropping.*
https://loupetroop.com/listings/rings-colored-stone-center/spessartite-garnet-set-in-antique-yellow-gold-setting-with-diamonds