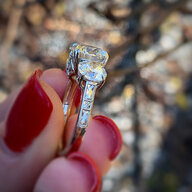 Joined

Jul 27, 2019
Messages

31
After a loooooong search and a couple of detours, I finally got my upgrade/replacement right courtesy of the incredible talent of Caysie van Bebber at CVB Inspired Design.
I lost my original engagement ring about 7yrs ago (1.3ct round w/baguette sides in platinum setting). I decided to go in a different direction with the replacement ring and chose a 2ct cushion stone and designed a setting with Barmakian's in Boston. We did a halo, trapezoid side stones, pretty gallery, and profile. After about a year, I confessed to the Mr. that I thought I made a mistake. I just didn't love the ring as my engagement ring. I didn't love the crushed ice look of the cushion and all of the parts of the setting just blended in - it was sparkly, but there was no contrast - if that makes any sense.
So we traded in the cushion for a 2.3ct round and I threw it in a plain solitaire just to have something to wear while I figured out my next move. I looked at so many ring settings I can't even count. I'm a stickler for the profile. I rejected hundreds of settings because they looked gorgeous from the top but the side view looked like crap - bad design, no design, bad angles, proportions wrong, etc. I was determined not to rush this time. I build Pinterest boards and started collecting photos and I took every opportunity to try on everything I could (What's not fun about that?!). I went down the halo route over and over but just couldn't pull the trigger.
I started playing around with all configurations of side stones. There's something about baguettes and french cut stones that speak to me and I kept coming back to them in various design elements. Last June I took a business trip to NYC and the Mr. decided to join me for the weekend. We trolled through all the iconic jewelry stores and had a wonderful time trying everything on. At Tiffany, we tried on a classic 3-stone with a center diamond about the same size as mine and we both just felt like we were on the right track. We even went back the next day so my husband could take another look. He loved it. I loved it. It just felt right. That started the quest to find some side-kicks for my center diamond and to find the right setting. I was searching for something with an antique vibe and trying to figure out a way to incorporate the baguettes or french cuts. I found an antique setting that was the inspiration for the profile and proportions. Caysie helped me figure out how to add some french cut stones and delicate milgrain detail. She was a pleasure to work with and really helped me to focus my ideas.
As a bonus, I had a loose tanzanite in my stash that fit perfectly in the halo setting I had made for the cushion stone and I fell in love again. I LOVE the halo with a colored stone. I've been sitting on that tanzanite for about 15yrs. It felt meant to be and a huge win/win.
So, here she is: CVB 3-stone in platinum with rectangular and square frenchies in the band. 2.3ct I VS1 center stone, 80 points each on the side stones. My husband surprised me with Caysie's Riviere band for my birthday in March. Yay!
Photo credit for photos 1-3: CVB.