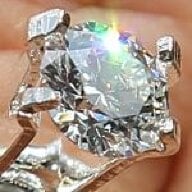 Joined

Apr 25, 2014
Messages

8,221
Prompted by an advert in a jeweller's window, I was thinking about going to get my good lady's
CBI
-diamond solitaire engagement ring appraised/valued - but the more I sit here and think about it, the more I wonder what the point would be...
I would note that I'm in the UK so appear to be limited to:
- the Birmingham Assay Office 'Safeguard' valuation -
http://assayofficebirmingham.com/safeguard/fsved.html
- Shirley Mitchell -
http://www.sdmvaluations.co.uk/index.html,
,
- or The Guild of Valuers and Jewellers (
http://www.gvj.org.uk/PostalValuations.aspx
) who seem to charge a %age of the assessed price and, therefore, would seem to have enticement to value things above their actual value.
Now, bear with me here - my train of thought is as follows:
- I have a decent camera and can take great quality pictures of the ring overall, the hallmarks, and the diamond in question
- the diamond is a
CBI
stone that is fully certificated for the 4Cs
- I can purchase a cheap set of digital calipers and measure the shank width / depth / diameter
- I can purchase a cheap set of digital scales and measure the weight of the complete ring
All of the above would appear to do the same job as a valuation, in that I can present to an insurance company:
- detailed pictures
- certificated details of the stone
- details of the ring material, dimensions and the weight of the metal (by subtracting the weight of the stone from the overall weight)
Assuming I am with an insurance company who has a like-for-like replacement policy, including replacement of 'branded items' with identical versions of the same 'branded items' (rather than a generic item that is 'close enough'...), the detailed information should mean that either I or they can determine the replacement cost of an identical stone from
CBI
(either in-stock or custom-cut), the replacement cost of the metal at the market rates of the time I claim, and an assumption for a reasonable amount for the work involved in shipping/casting/mounting/etc.
So... why would I need a 'proper' appraisal or valuation if I have all the above and all the appraiser will do is write it down and put it into a shiny document holder and charge me upwards of about £60 for the pleasure??
I appreciate that a valuation is 'proper' but the more I think about it, the more my internal logic seems to be determining that it is a waste of time and money!
Your thoughts are welcome!