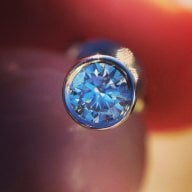 Joined

Jul 7, 2004
Messages

10,763
I should probably preface this by saying I am not DONE losing weight, so I don't want to size them yet.

I got a set of "sizers" from EWeddingBands to get a better idea where I was. They were sized to a 6, and I knew my size had gone down because while my rings were sized for my knuckles, they were snug over my knuckles before, and now they'll almost fall off, and HAVE a few times if my hands are cold/wet. The sizers are little blue plastic rings that are 4mm wide, and I am wearing the 5.5 pretty easily. It's loose below the knuckle, and can be snug over the knuckle sometimes but most times it's just easy on and off. My rings are all 1.5mm-2mm... So I am trying to decide what to do.

I am planning to just do sizing beads in my ering and Kwiat right now since I am not done and I will have my spacer sized down.