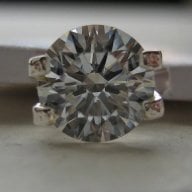 Joined

Jul 2, 2005
Messages

247
Oh my goodness...I can''t believe how long he is making we wait!! Grr!!
For those of you who don''t know my story...my FF and I have been together for 3.5 years, lived together for 2.5, and ''plan'' on getting engaged this year.
We bought the stone in January (here is the link if you are interested
https://www.pricescope.com/community/threads/my-1-86-arrived-question-for-j-wearers.56529/
), had it appraised etc, sent it off for a custom setting, and it has been back in his possession since the 22nd of March!
Now..I know it has been just under a month, which I guess isn''t all that long, but I think it is hard because I''ve been involved in the process since January! Now THAT is a long time!!
I''m trying not to ask him about it, because I know he wants it to be a surprise, and I for one don''t want to feel like I bullied him into giving it to me...but yikers it is killing me!
He claims to ''know'' when he''s going to do it...I just hope that it is relatively soon!
I guess I should just focus on exams...my last 2 of school ever!
Thanks for listening!