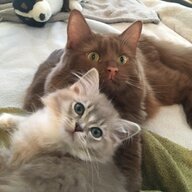 Joined

Jul 12, 2015
Messages

737
I am over the moon excited to introduce my newly acquired CBI studs! I have admittedly been a bit "studs crazy" of late, as I recently introduced my new CER studs from Victor Canera, which I absolutely adore! However, prior to embarking on my vintage studs project I had spent several months searching for the perfect MRB studs. I had originally planned to stick with a single pair of studs, but as I am enjoying alternating between vintage and modern rings I thought it would be fun to add both flavors of stud earrings to my collection as well. This studs project has been about 15 years in the making, so I guess that all of the excitement got the best of me, and I am so glad that it did!
Now anyone who has ever worked with Wink at HPD will tell you that he is not only a consummate professional, but also one of the most delightful people you will ever encounter. However, after this most recent experience I can safely add "saint" to his many descriptors. When I began my studs search last year I was convinced that I wanted something in the 1.6-1.8ctw range. I had visited a B&M store and tried several pairs on, and I was all but confident in this size. So when a beautiful .9ct CBI diamond popped up on the HPD site I eagerly ordered it, just to test it out, only to decide that it wasn't quite right. I then thought that something in the 2ctw range would be amazing, but second guessed myself and ordered a set of 1.25ct stones just so I could quell any lingering questions in my mind. But alas, as soon as I held them up I knew that they were just a bit too overpowering for my dainty little earlobes. I was quite frustrated with myself for wavering back and forth so much, but I was determined to get it right. Throughout this process Wink was exceedingly patient, continually assuring me that there was no wrong choice to be made, only the choice that was most right for me.
In the meantime, don't you know that a perfectly matched pair of 1.06ct diamonds had popped up! When I went back to Wink to request them he was exceedingly gracious as always, and all I can say is that the third time really was the charm! These diamonds are pure sparkle and so gorgeous, and truly the perfect match for each other as well!

Then came the somewhat daunting task of selecting a setting. I had never worked with CvB and had been enamored with her 8-prong Abby setting for quite a while (those dainty prongs make my heart skip a beat!), so I decided to go that route. Although I am really happy with the way this project turned out, in light of the many gorgeous pieces I have seen from HPD's bench recently I would just as happily trust the setting to them if I were ever to upgrade in the future!
I should also note that at the outset of this project I had G/H VS diamonds firmly in mind; however, I actually ended up with G VVS2 studs. You might ask why on earth I would go with VVS2 clarity for earrings, and it is a reasonable question, especially as I was initially drawn to a beautiful pair of G VS1 stones (it is really just a mind clean thing, after all!). However, I discovered that Paul Slegers regularly discounts his VVS1-2 stones below market, often even matching the price of VS1 stones of the same color and size, and after making a few comparisons the choice of VVS2 stones was clear. Mind clean diamonds for the win!
Also, for those who like the stats, here you go… these diamonds really are like peas in a pod!
1.057 and 1.062ct (2.1ctw)
G VVS2
6.51 x 6.56 mm and 6.55 x 6.59 mm
Tables: 56.7%
Crown angles: 34.5%
Pavilion angles: 40.7 and 40.8%
LGFs: 76
Long story short, I am beyond thrilled with these earrings, and the sparkle factor is out of this world! I intend to keep these earrings for a very long time, but on the off chance that I get tempted to upgrade at some point, HPD makes it super simple; in fact, I have to say that the flexibility of their trade-in policy is pretty darn awesome! The many years of waiting this project out were completely worth it, and even in my wildest dreams I never envisioned a pair of studs as amazing as these!

It is always a distinct pleasure to work with the HPD team, and I am beyond grateful to Wink for his infinite kindness and patience throughout this project. He is truly a gem in his own right!
The photos do not do justice to the beauty of these stunners! Without further ado, here they are!!