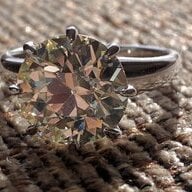 Joined

Apr 14, 2015
Messages

256
I have posted about two cluster ring a few weeks back
[URL='https://www.pricescope.com/community/threads/antique-pear-help.225186/']https://www.pricescope.com/community/threads/antique-pear-help.225186/
[/URL]
After so much back and forth, I decide to bite the bullet and buy the round cluster ring. It arrived yesterday. I have till Saturday to decide keeping it or sending it back. The ring is in good antique condition, no tear or wear. The center stone has nice facet pattern. The side stones are slightly vary in color/cut but not so obvious. There is not much restoration needs to be done other than the milgrain on the edges of the side stones.
My only reservation is that the center stone is only ~6.4mm and sides are ~4mm. It looks like the sides are somewhat competing not complementing the center.
The overall size of the cluster is ~15mm which is big on my finger (size 5~5.25).
Now I'm kind on the fence. Part of me really like it. I have been looked for a cluster for a while and this is my best find so far. On the other hand, I really wish the center stone is slightly bigger(~7mm) and sides are slightly smaller (~3.5mm).
Am I too picky with it? Should I keep looking?