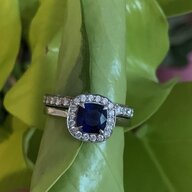 Joined

Jan 12, 2009
Messages

595
I was in town and walking past a jewellers and saw a beautiful sapphire ring and went in to ask about it and try it on. I am 31, the woman that served me was in her late 50's. I should have guessed she was going to be hard work as she checked out my handbag and shoes before starting to serve me (clearly evaluating if I was worth having proper service).

I asked to try on the "square cushion with the tapered baguettes". She bought out three rings, one had an oval in, the other had pear sides and the final one was the one I asked for. I pointed at it and said," yes, that's the one I wanted". She looked at me and said "well some people don't know what they are asking for, so I bought out a few." Great, you've already rubbed me up the wrong way.

I asked if I could borrow her loupe, and she looked shocked and almost sniggered.

I asked where they sourced their sapphires from. I got a snooty "from the place we have sourced them from for many years." Again, I asked which country. She replied "Thailand, or maybe Sri Lanka".

I asked about any treatments that the stone had had, including heating. "All our stones are presented naturally but we did the best to preserve their beauty" So have they been heat treated? Again, another woolly answer. (I suspect that it had been treated, as it was crystal clear, no inclusions or feathering and at the price they were charging it had to have been heat treated).

I could see her looking snootily at me and wanted to slap her face. I've had great service in Tiffany and Cartier and it took a snooty old woman in some local jewellers to look down on me and make me feel two foot tall, when in fact it was her than knows nothing about her products.

Needless to say, I am on the look out for a new engagement ring, and I certainly won't be going back to her shop!

Have you had snooty sales people? How have you coped with them? Anybody done a Julia Roberts in Pretty Woman and gone back and done the "big mistake, huge mistake" routine?