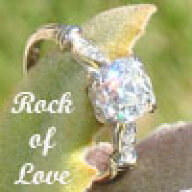 Joined

Jan 7, 2009
Messages

1,274
I was a little unsure about the cook time listed on the Glamour article, so, I decided to *alter* it a bit. I cooked a 5lb-er for about 3.5-4 hours at 275. I made a mixture of garlic, rosemary, lemon zest, butter, olive oil, kosher salt and fresh ground pepper...I rubbed the bird with this mix and also rubbed it under the skin. In addition to the lemons, I also stuffed the bird with rosemary and a full bunch of garlic cut in half lengh-wise. Basted after the first 2 hrs, every 1/2 hr.
It came out YUMMO!!! It was falling off the bone like rotisserie. My BF said it was my best ever. He was so happy...licking the meat off the bones. Went back for seconds, thirds.

Then, he surprised me and started cleaning! Didn''t another PSer get the same result recently?? Cleared the dishes, cleaned them...I came to start putting away the leftovers and he was helping me. Ha ha!

So...my question is...did I *alter* the recipe too much to be E-Chicken?? Have any of you altered the receipe??
Anyway, hopefully the "energy" of the chicken will get me closer to my ring!!