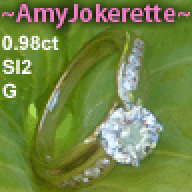 Joined

Sep 5, 2008
Messages

308
Okay here we go... I have been wanting to post this for a while...but quite honestly... I have been embarrassed.
Everyone''s rings on here are so pretty, so perfect... that I was ashamed that I did not notice these "flaws" sooner.
I have had my ering for about 3.5 years now. When i first got engaged I was just on cloud nine and did not notice anything besides the fact that it sparkled. We upgraded my diamond 6 months ago and since then I have become addicted to PS. Now that I have a newfound passion for my ring and my diamond I have been looking at it more closely. I bought a loupe and I give myself headaches because I love looking at it so much. But now that the newness has worn off I have noticed some flaws in the side channels that are really starting to bug me. (I went back and looked at old photos, and they have been there all along, I just never noticed before!!)
I posted an image of the close up view of both sides of my ring... both channels have some sloppy metal work in my opinion.... but is it worth it to try and fix it and risk even more sloppy work or risk weakening the channel? (Pay no attention to the normal wear and tear... it is magnified as well!! lol)
#1- the gold appears to be clawing right over the two melees!
#2- big spaces = dirt collectors??
#3- dents/gouges (possibly from tools)
#4- not a perfectly curved end... more pointy than the other side.
My husbands feelings appeared to be hurt and frustrated. Getting a new setting is out of the question as this one is just too sentimental to him, and it really is to me too.
So... what are my options?? Are there ways of getting the edges of the channels smoothed out? Can I insert an extra melee in each channel to fill the gaps between the diamonds?
My mother and my best friend told me to stop obsessing because no one else in the world will ever look that close or notice. But now I am self conscious... What do you guys think??? They said I should appreciate it because that is the band he picked out for me and nothing in life is perfect.
Overall I love my ring... its unique and different... I just want my channels to be bright and sparkly like my center stone... but its not worth hurting hubby''s feelings if you guys think I am being too picky.